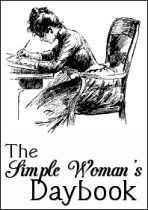 FOR TODAY...
Outside My Window...It is a rainy day...again!
I am thinking... about how I am going to arrange the shelves my mom gave me
I am thankful for... being able to go on holidays and see my 'other' parents..I miss them terribly!
From the kitchen...for dinner..herbed chicken breasts, diced potatoes and cheesy broccoli.
I am wearing...jeans and a tank top
I am creating... a way to have more space in the living/dining area(hence the shelving)
I am going... to get that all done today!!
I am reading...a baby name book (have two picked out!!)
I am hoping... that it clears up outside a bit so I can Freecycle some stuff
I am hearing... the chitter chatter from the breakfast table
Around the house... hopefully my vision will work and it will all be accomplished today..I totally dislike having my living room filled with shelves in the middle of it!!lol
One of my favorite things... has been a yummy craving of mine...croutons smothered in Caesar dressing and fresh grated Parmesan cheese...ummm...so basically a Caesar salad without the salad!lol Don't worry, I eat it with the lettuce too, just too much lettuce give me tummy issues...if ya know what I mean!!ROFL!!!
A Few Plans For The Rest Of The Week:
-finish laundry backlog
-pack and pack and pack for holidays
-get living/dining/homeschool area all organized
-get haircut on thursday
-find a place for our dog to stay while we're on holidays (I'm so sad we can't bring her)(this is actually supposed to be Bill's job for the past month......yup, he's a procrastinator) I'm hoping she can stay with someone whom we love and trust, I think of her as one of my kids!!)
Here is picture thought I am sharing...

Have a blessed Monday!!
Penny